The Pet Dog Program: Class Prices
as low as $
132
/ 6 classes
6 Class Package for $132
12 Class Package for $240
18 Class Package for $324
How it Works
1. For dogs and Puppies OVER 16 weeks take the behavior test to see if your dog is ready for group classes.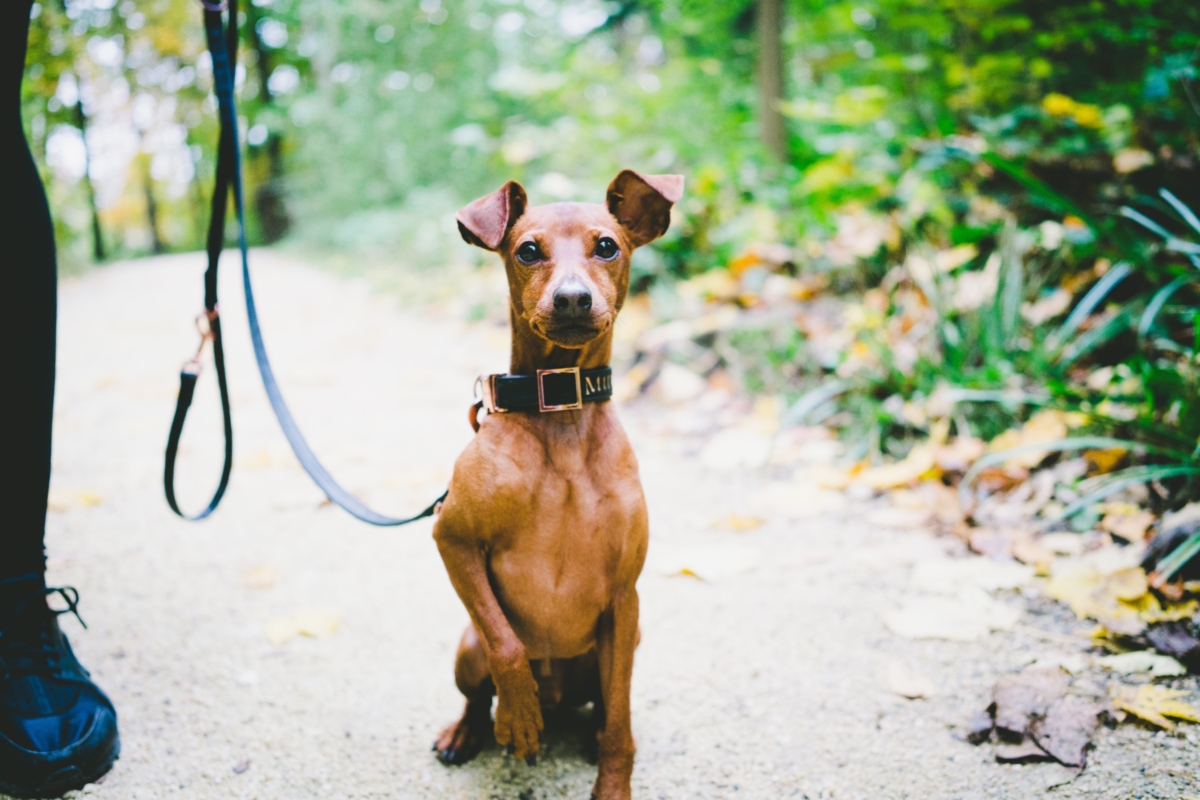 The Pet Dog Program
In these classes, we focus on teaching you how to build a strong relationship with your dog for an enjoyable, well-behaved pet. The program is designed to give you and your dog a basic level education in Clicker Training which is based in the science of Behaviorism. We teach you how to use Positive Reinforcement through Classical and Operant conditioning.
The Pet Dog Program is set up as a modular system. Each Module is made up of skills chosen to complement each other. The Modules are designed so you can pick the skills that you are most interested in learning. Then, the skills are broken down into levels which allows learners (both dogs and humans) to learn at their own pace.
NOTE: If you have a puppy 16 weeks and under, they may take this program simultaneously with The Social Puppy Program.
Program Goals
Socialization – through positive interactions and games.
Communication – effectively through positive reinforcement and clicker training.
Help your dog become a 'thinking' dog.
Have fun together by building a strong foundation for a wonderful, lasting, lifelong relationship.
You and your dog will learn, Sit, Down, Come, Stay, Heel and more.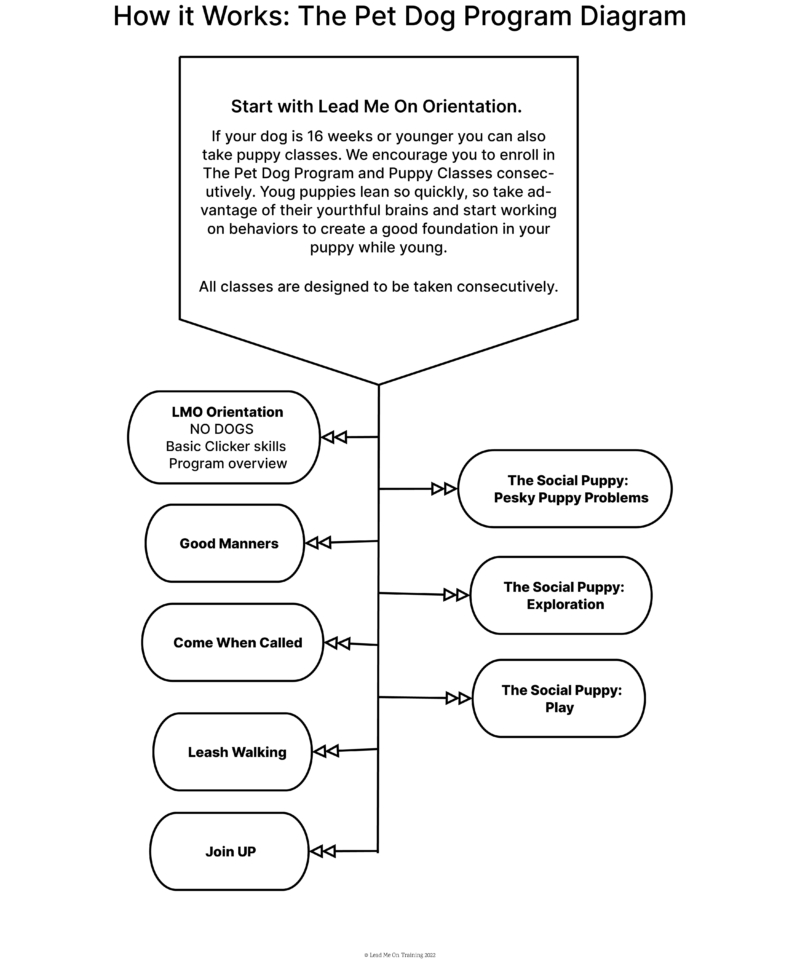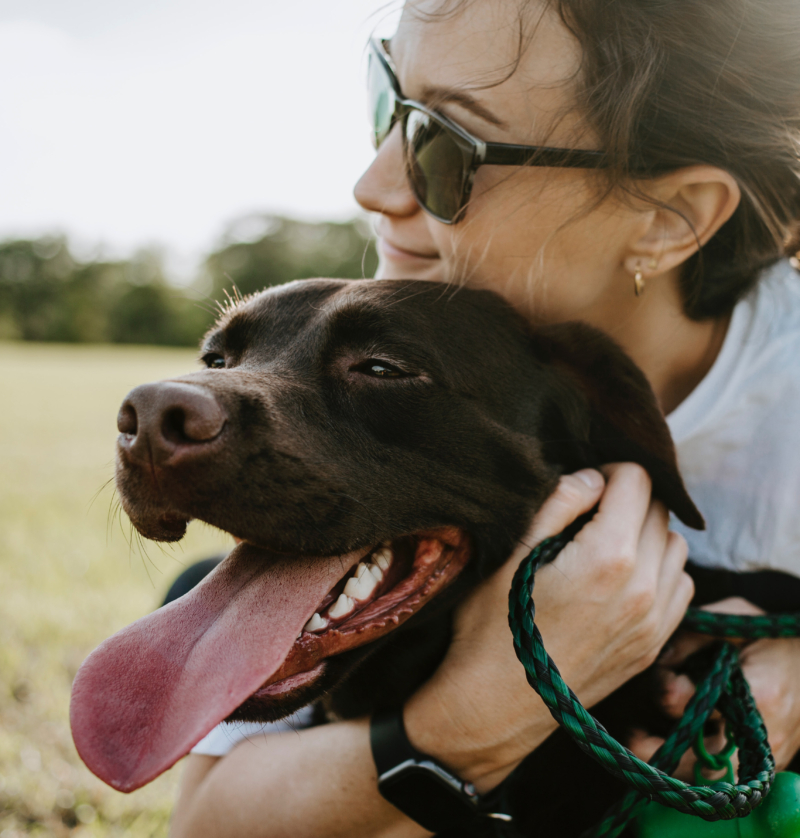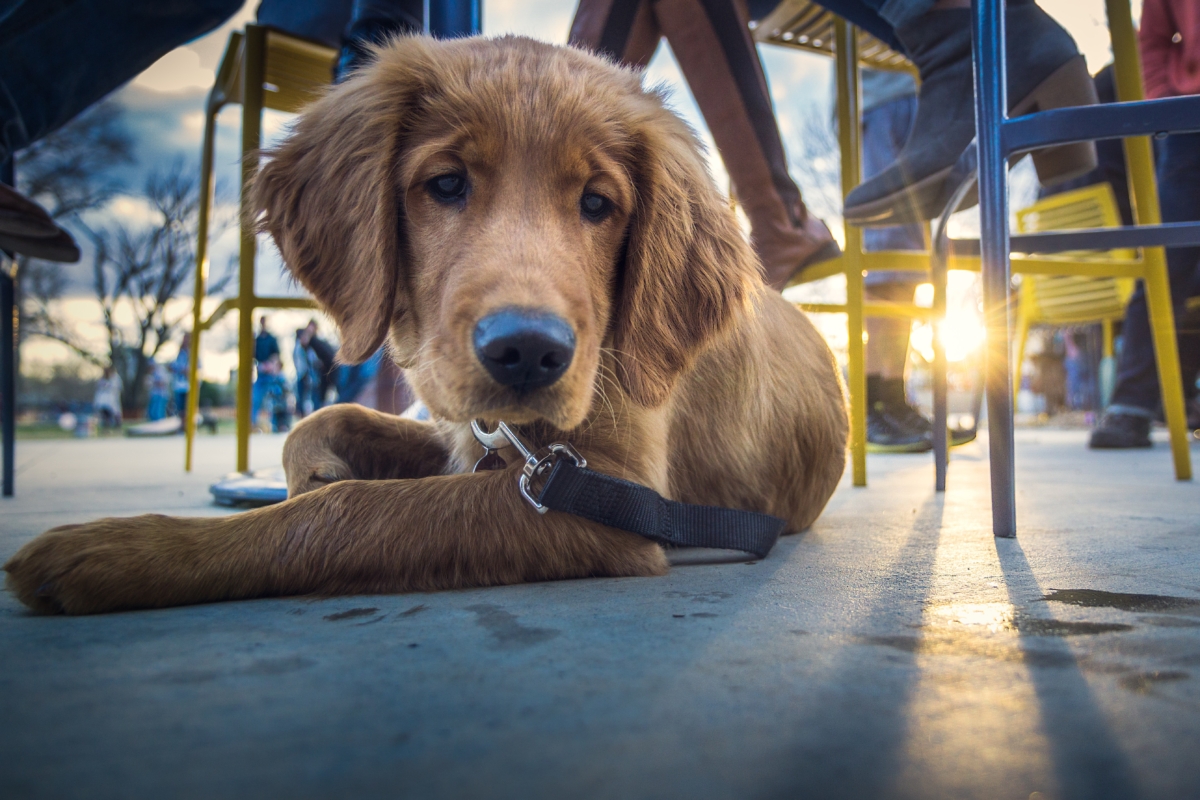 The Pet Dog Program Class Catalog:
LEAD ME ON ORIENTATION
Prerequisite to all of the following classes. This is a Group Class (NO DOGS). In orientation you will learn about our Facility Logistics, Foundations Program Overview, Schedule Overview, Class Overview & Expectations as well as an Orientation Lesson covering our training methods.
THE PET DOG: LEASH WALKING
In this class you will learn how to walk on a loose leash with your dog. This is a relaxed walking technique used for casual walks in the neighborhood where you and your dog get to enjoy the environment together.
THE PET DOG: COME WHEN CALLED
The focus in the class is to learn how to get a really reliable recall for your dog. You will also learn lots of different games to play to keep that recall good for a lifetime.
THE PET DOG: JOIN UP
In this class you and your dog will learn how to do heeling on both the right and left side and both on and off leash. This type of walking is used in public spaces around other people and dogs and to cross the street where you need your dog right by your side and focused on you instead of the environment.
THE PET DOG: GOOD MANNERS
In the class you will learn how to teach your dog basic manners for around the house. For example, MAT work to keep your dog out of the kitchen when you are cooking, waiting at doors and thresholds, and other handy behaviors used in the house to enjoy each other's company.
Ready for a positive experience?