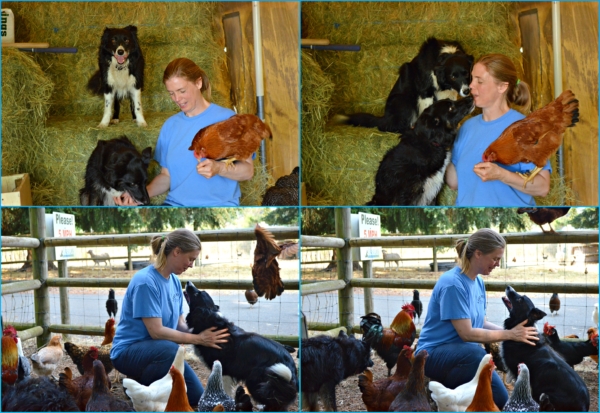 In 2004, Ursula decided to leave Corporate America and follow her dream of a life working with dogs. Moving from the Seattle area to Olympia, Ursula has pursued that dream with passion becoming one of the preeminent dog trainers in the Puget Sound. She greatly enjoys finding creative ways to work with dogs using a positive methods. Karen Pryor Academy certified and committed to positive training methodology, Ursula can help you and your dog live a better life together.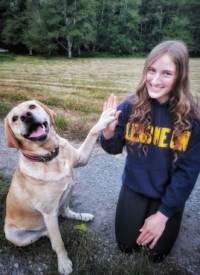 Kristina has experience working as a Veterinary technician/assistant and has studied over 40 books on dog training, dog behavior, and various breeds. She has had 8 years of hands on experience, primarily in loose leash walking, tricks, and coming up with a personalized plan for you and your pooch. Kristina's personal dog was trained as a puppy and now knows 24+ cues as well as scent work and shed antler hunting. Dog training has been a passion of hers from a very young age and she cannot wait to meet you and your furry (or not furry!) friend.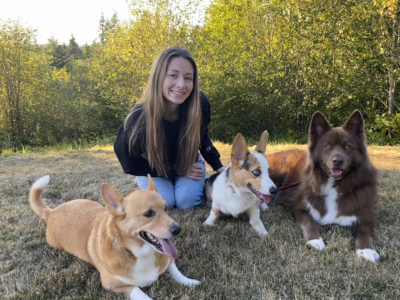 Rae attended college at Washington State University, where she graduated with a B.S. in Zoology. She has worked with dogs for years in various settings, including boarding, grooming, volunteering at shelters, and positive-reinforcement training since graduating in 2019. Rae rescued her first dog from the shelter at which she volunteered during high school, a corgi-mix named Wilbur. He has been her best friend since the day she brought him home. The other two members of Rae's pack are a Husky mix named Kuzco and a Pembroke Corgi puppy named Dudley. Rae is currently enrolled in the Karen Pryor Academy Dog Trainer Professional Program with her partner Kuzco.
Certified:
Fear Free
KPA CTP
TAGteach Level 1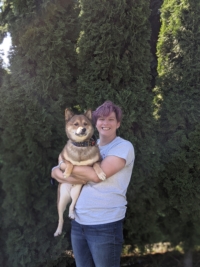 Staci has a BA in Biology and has worked with animals in zoos and museums, where she got her start with positive reinforcement training, before diving into the dog training world. She especially loves primitive breeds and fully knows what it is like to live with and train a dog that can be hard to motivate! Her dog, Koji, is a Shiba Inu and helped lead her into her training career. Working to help you and your dog communicate and live a happy, fulfilled life is why she does what she does. She is a huge fan of continuing education so she's constantly reading and taking new courses to make sure she's up to date on the science to be better equipped to help you and your pup.
Staci is starting KPA with Koji in August!
Certified:
Aggression in Dogs Master Course
CPDT-KA
Fear Free
TAGteach Level 1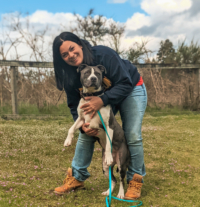 Cece has a lifetime of passion for all things dog and has 10+ years of professional dog training experience. She got her start training basic obedience to dogs headed into the Service Dog world. She then spent the next 8 years in the doggy daycare industry studying and learning dog body language. Cece is currently working on her CPDT certification through the CATCH Canine Trainers Academy and TAGteach Level 1 certification through TAGteach International. She lives with 3 spunky Italian greyhounds and a pitbull.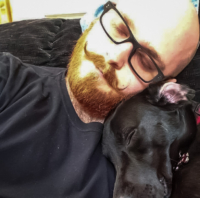 Taran has always been interested in living things of all shapes and sizes. He has multiple aquariums, terrariums and has lived with dogs his entire life. He has worked in several other fields of work but none he is as passionate about as caring for dogs. Taran started his journey in the world of animal/dog training and behavior 1 year ago here at Lead Me On. Since starting as a kennel attendant Ursula and our crew have helped guide and teach Taran in the ways of positive reinforcement training. Taran has two dogs, his german shepherd/husky Winnie and his black lab Ren. He is currently enrolled in the Karen Pryor Academy professional dog training course with Ren and Level 1 TAGteach.
Certified:
Canine and Feline CPR and Frist Aid Certified
KPA CTP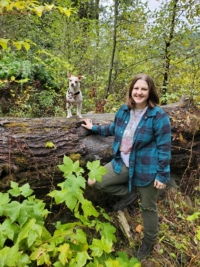 Kayla has had experience in many fields from welding to care giving, but caring for animals has been most rewarding. Working on a sheep farm for 10 years she learned a lot about hard work, and how to care for 80 + animals.
Kayla and her pup Wren look forward to helping you and your dog find a place for them to come and stay, or to get started on training to better you and your dog's relationship!
Ready for a positive experience?