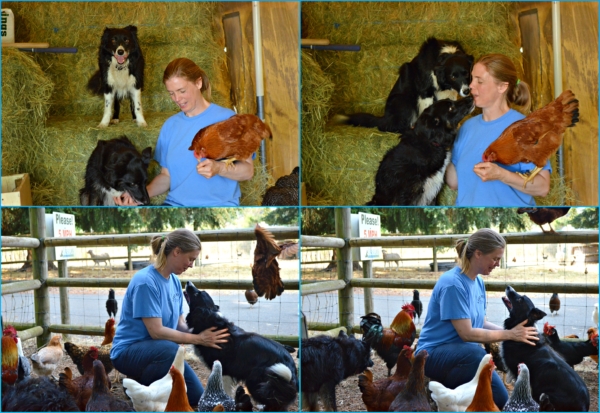 In 2004, Ursula decided to leave Corporate America and follow her dream of a life working with dogs. Moving from the Seattle area to Olympia, Ursula has pursued that dream with passion becoming one of the preeminent dog trainers in the Puget Sound. She greatly enjoys finding creative ways to work with dogs using a positive methods. Karen Pryor Academy certified and committed to positive training methodology, Ursula can help you and your dog live a better life together.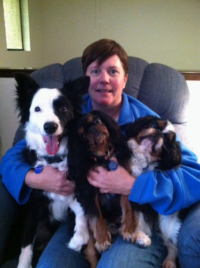 Mary has a BA in Psychology and worked in veterinary medicine for 27 years. During that time she pursued continuing education in dog behaviorand training. She started hosting puppy socialization classes at the veterinary hospital and became an instructor at a local dog training school where she taught puppy classes, basic obedience, and agility. She competed in agility, obedience, and rally with her Border Collie, Cami. Cami earned multiple titles, but more importantly showed Mary what it means to work in partnership with a dog and build a relationship based on trust and respect. Mary's English Toy Spaniel, Wiggle, also competed in AKC agility and was the #1English Toy Spaniel for two years. Wiggle taught Mary that dog training requires a sense of humor. Mary currently lives with a Border Collie named Hobbit and an English Toy Spaniel named Zipper. Both dogs train in nose work, doggie pilates, and freestyle dance. Mary enjoys helping other people develop their relationships with their dogs through communicaton, understanding, and laughter.
Certified KPA CTP, Fear Free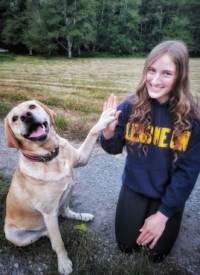 Kristina has experience working as a Veterinary technician/assistant and has studied over 40 books on dog training, dog behavior, and various breeds. She has had 8 years of hands on experience, primarily in loose leash walking, tricks, and coming up with a personalized plan for you and your pooch. Kristina's personal dog was trained as a puppy and now knows 24+ cues as well as scent work and shed antler hunting. Dog training has been a passion of hers from a very young age and she cannot wait to meet you and your furry (or not furry!) friend.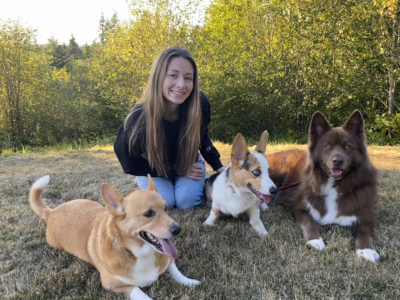 Rae attended college at Washington State University, where she graduated with a B.S. in Zoology. She has worked with dogs for years in various settings, including boarding, grooming, volunteering at shelters, and positive-reinforcement training since graduating in 2019. Rae rescued her first dog from the shelter at which she volunteered during high school, a corgi-mix named Wilbur. He has been her best friend since the day she brought him home. The other two members of Rae's pack are a Husky mix named Kuzco and a Pembroke Corgi puppy named Dudley. Rae is currently enrolled in the Karen Pryor Academy Dog Trainer Professional Program with her partner Dudley.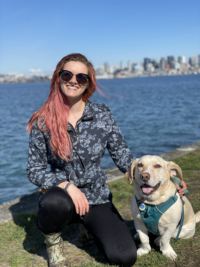 Gabz has been working with dogs for over four years. She got her start working in dog daycare in Ellensburg Washington while she learned about dog training and positive reinforcement! She earned her CPDT-KA in 2019 and has been teaching group and individual classes ever since! Since beginning at Lead Me On, Gabz has been thrilled by the opportunity to learn more about clicker training and working with dogs that struggle with reactivity. Gabz lives with her husband as well as her three cats and lab+basset hound mix, Torbjorn.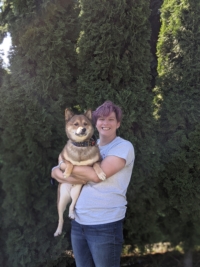 Staci has a BA in Biology and has worked with animals in zoos and museums, where she got her start with positive reinforcement training, before diving into the dog training world. She especially loves primitive breeds and fully knows what it is like to live with and train a dog that can be hard to motivate! Her dog, Koji, is a Shiba Inu and helped lead her into her training career. Working to help you and your dog communicate and live a happy, fulfilled life is why she does what she does. She is a huge fan of continuing education so she's constantly reading and taking new courses to make sure she's up to date on the science to be better equipped to help you and your pup.
Certified CPDT-KA and Fear Free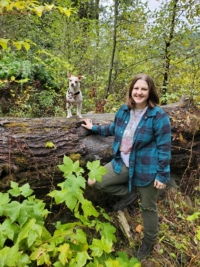 Kayla has had experience in many fields from welding to care giving, but caring for animals has been most rewarding. Working on a sheep farm for 10 years she learned a lot about hard work, and how to care for 80 + animals.
Kayla and her pup Wren look forward to helping you and your dog find a place for them to come and stay, or to get started on training to better you and your dog's relationship!